Top 5 Things to Do in Dubai With Your Family: Dubai is one of the most talked-about tourist destinations in the Middle East thanks to the fantastic family tours available there. Having a wide range of amusement and eateries that it has to offer for people of all ages, this country is the pride and soul of tourism in Middle Eastern countries. Due to the increasing demand for Dubai tour packages from India, many travel companies offer these services.
As one of the most popular tourist destinations in the world, Dubai houses award-winning architecture, a surplus of international and regional eateries, shopping, and family-friendly options. In the UAE, as the ex-pat residents remain growing, relatives and friends of the expatriates also come to Dubai over the vacations, encouraging the tourism industry there.
No matter the innovations and modern creativity, this city has maintained its charm, which drives enormously alluring for Dubai family holidays. In this article, we have shared some of the top activities that you can enjoy in Dubai with your family.
Top 5 Things to Do in Dubai With Your Family
Ain Dubai
There are many ferris wheels in the world that stand out due to their unique attributes. Experiencing the astonishing views of Dubai from a height of more than 250 meters. The long installation of the wheel is erected on a man-made island which is called Bluewaters Island. When you are on it the 360-degree view of the skyline will be so enchanting that it will be preserved in your memories for a very long time.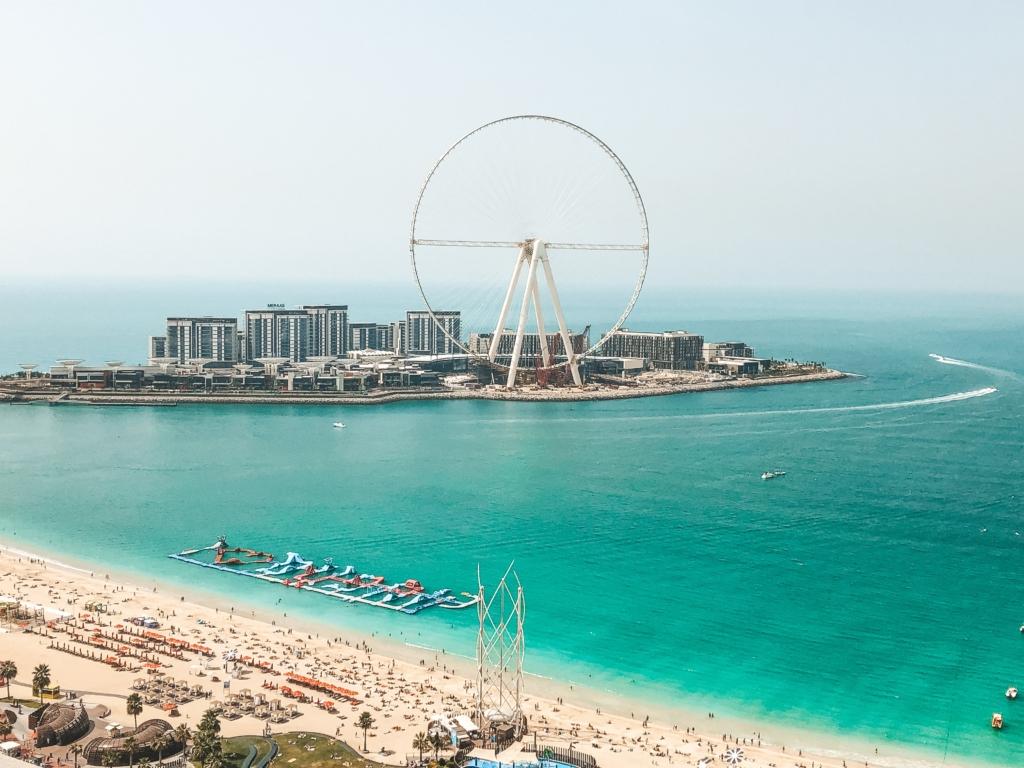 Not only that but the skyscraper buildings such as Burj Khalifa will be having a magnificent appearance. The cabin provided in the Ferry wheels is air-conditioned to make you comfortable. The Ain Dubai tickets price is approximately INR 2,276 per adult for about 40 minutes duration of the activity. The Ain Dubai can be enjoyed from Sunday to Saturday from 11:00 AM to 09:00 PM.
Kidzania Dubai
Come along with your kids on this thrilling adventure where they will experience amazing things. Through this program, they can learn about different careers and practice stepping into the shoes of their dream jobs. Kids from 4 to 16 years old can take part in numerous role-plays in this place that provides an educational environment.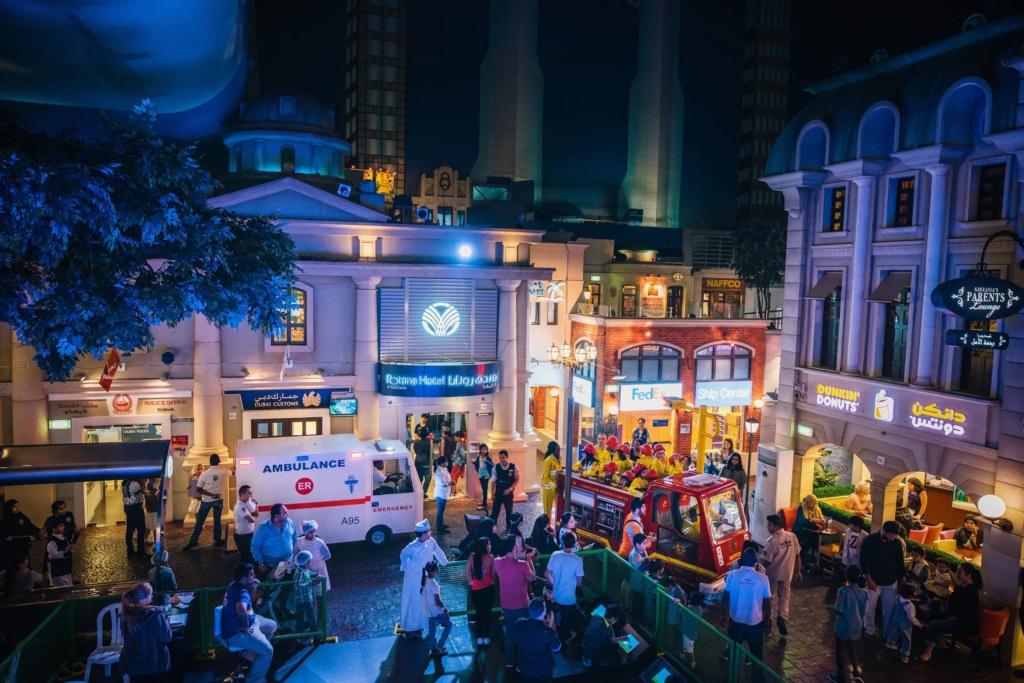 Kids can showcase their talent on a variety of platforms, from the Flight Simulator to the Kinder Chocolate Factory and Metropolitan Theater. Your children will have a lot of fun while learning about how different professions work.
If you would like to celebrate your little champ's birthday by improving his or her social and cognitive as well as professional skills. The pace is open from 10:00 AM – 10:00 PM from Saturday to Wednesday and 10:00 AM to 12:00 AM on Thursday & Friday.
Dubai Garden Glow
This is a unique garden that houses many installations from various artists belonging to different countries. If you are on a family tour in Dubai, this place should be there in your itinerary. The garden is mainly divided into 3 portions namely, Ice Park, Dinosaur Park and Art Park. The lightning at the night gives an entirely different vibe to the sculptures installed here. Situated at the Zabeel Area in Dubai the ticket price of Dubai Garden Glow ranges from 48 – 68 AED.
IMG Worlds of Adventure
If you're a kid or maybe you are an aficionado of Marvel and Cartoon Network then the famous theme park IMG Worlds of Adventure is the place for your family adventure. This theme park is not that old and is one of the most visited.
When you are here you will be amazed by its most popular attractions namely, Ben 10, Gumball, The Powerpuff Girls, Spider-Man, The Hulk, Iron Man, Thor, and The Avengers. Another famous zone of adventure is the Lost Valley which is well known for dinosaur installations. IMG Worlds of Adventure can be accessed from 12:00 PM to 8:00 PM on Saturday to Wednesday and from 12:00 PM to 9:00 PM on Thursday & Friday. The ticket price lies somewhere between 152 – 180 AED.
Dubai Miracle Garden
Dubai Miracle garden has numerous installations that are all adorned with beautiful flowers. The pathways inside the garden are designed with interesting layouts. which include heart-shaped, pyramid-shaped, and full-size house-shaped. As soon as you enter the garden you can feel the refreshing vibe of the flowers. The fountains inside the garden add up to its overall allure.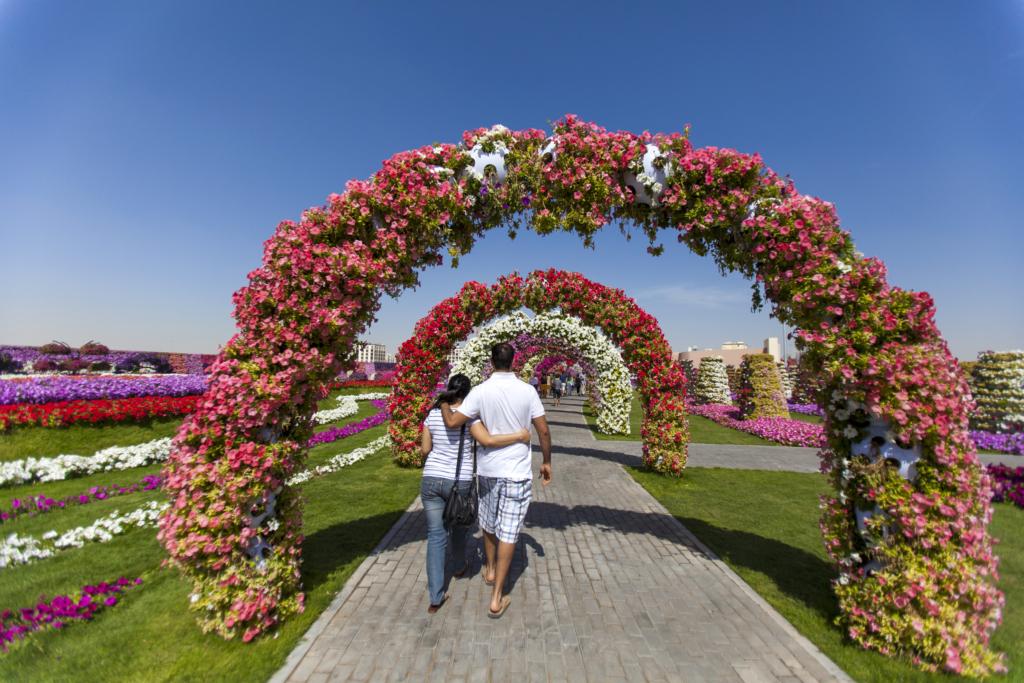 The major attraction of the garden is the Airbus A380 aircraft installation. Inside the garden, you can find designated places that are dedicated to different themes. One of such famous ones is the butterfly garden. If you are enjoying the Dubai tour with your family you should not miss this most opportune place in Dubai.