Desert Safari Dubai: Dubai is one of the world's most modern cities. But, things to do or experience in Dubai are not just limited to its posh architectural marvels or extraordinary shopping or entertainment scene. After all, this city is just a few minutes' drive away from one of the region's most compelling dune scenery. So it's easier than you think if you want to take a break from its fast-paced environment. Just take a desert safari in Dubai; it introduces you to surroundings, serenity and happenings like never before. And read on to know more about a desert safari in detail.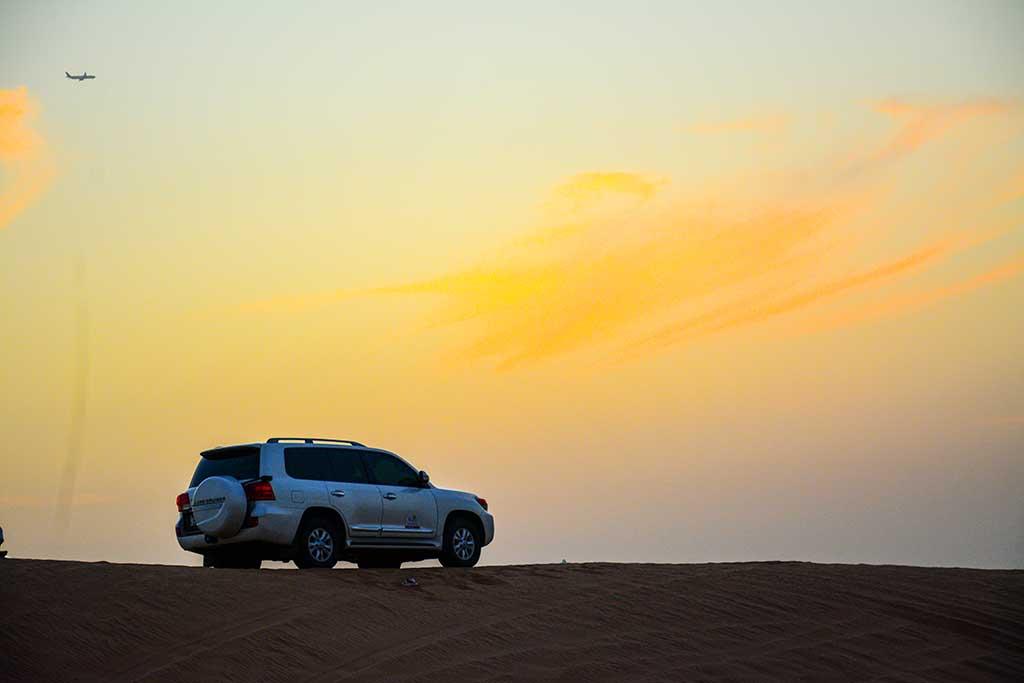 What Is A Desert Safari?
The breathtaking stretches of Arabian Desert that bound the city are some of the UAE's greatest natural treasures. In fact, a desert safari in Dubai is nothing but an enlightening off-road journey that takes you out of the glamorous part of Dubai and unfolds before you the region's bleak yet magical landscape, mesmeric natural beauty, and age-old Bedouin culture, along with some heart-stopping activities and unforgettable moments.
Desert Safari Key Locations
There are several locations across Dubai where you can head for a desert safari Dubai. Al Awir is one of the quickest desert safari spots, while the mysterious orange-red dunes of Al Lahbab region are unique in its own right. Want to combine desert beauty with wildlife and other cherished experiences? For this, the incredibly protected Dubai Desert Conservation Reserve (DDCR) is one of the greatest locations in Dubai.
But, if you're looking to get out of the city limits or venture far away for your desert safari, make it epic by driving out to Liwa Desert in Abu Dhabi where you'll get to soak up the unspoiled beauty on a grand scale. Interestingly, it lies on the world's largest desert sand, Rub' al Khali or Empty Quarter.
Types Of Desert Safaris
Evening Desert Safari
Starting from late afternoon and lasting through late night, an evening desert safari promises you a perfect introduction of Dubai's otherworldly desert beauty. Indulge in all indispensable desert adventures imaginable and absorb the best ever sunset views on this safari. Add to this many cultural activities and traditional entertainment, together with a lavish BBQ culinary session.
Dinner in Desert
It's especially for those who are looking to forego all pulse-racing activities included in a standard evening desert safari, but still want to admire the mind-boggling allure and tranquility of desert sands. That said, it's enriched with the most amazing cultural and culinary experiences.
Overnight Desert Safari
There is no desert safari that is as comprehensive as an overnight desert safari. Get the best of both worlds as you'll get to take in both desert sunrise and sunset views with this all-inclusive desert safari. It comes with all activities and experiences involved in an evening desert safari, plus a soulful overnight stay amidst the enigmatic emptiness of Dubai's colossal sands.
Morning Desert Safari
Whether you're short on time or just want to have the grandest display of Dubai's desert, go on a morning desert safari! You'll get to enjoy a bunch of adventures and experiences that are staple to any desert safari, such as dune bash, camel ride, and campsite visit. But, if you want to give an unmatched twist to your morning safari, reach here before dawn for a sunrise desert safari. This gives you the once-in-the-lifetime chance to see the desert waking up right in front of you while shifting its color from deep dark to breathtaking pink-red hues and eventually to elegant orange.
Desert Safari – Top Activities & Experiences
Dune Bash
This is one of the major draws for fun seekers and thrill lovers alike. Bask in the endless shimmering golden sands with this adventurous ever roller-coaster kind of ride over the desert lows and highs aboard a mighty Land Cruiser or Hummer.
Camel Ride
Take any desert safari; this is a mandatory inclusion. It lets you see Dubai's desert sands in a different light. In other words, see the vastness of desert surrounds unfurls before you as you enjoy a peaceful yet wobbly ride on your camel back. That's not all; this experience is more like revisiting Dubai's past as camels were the only means of transport in the region during ancient times.
Hot Air Balloon Ride
Want to spread your wings over the desert sands? Take a hot air balloon ride but this doesn't come as an inclusion of a standard desert safari. You've to head to DDCR to take part in this distinct airborne desert activity.
Sunrise and Sunset Views
Be it the first or last rays of sun, Dubai's desert displays this at its best. Subject to your preference, take a morning or evening desert views to enjoy this magical natural phenomenon. But, if you don't want to miss both, nothing could beat an overnight desert safari.
Other Desert Activities
From sandboarding to riding ATVs like quad biking and dune buggy, there are more activities which bring your inner kid out to play while in the desert. But, they are not included in most desert safaris, but you can enjoy them for a nominal additional charge during the safari.
Bedouin Campsite Visit
This is where the second part of your desert safari dubai begins (after 4X4 dune bash and sunrise / sunset views). You'll be mostly welcomed here traditional way with a cup of Arabic coffee accompanied by succulent dates.
Cultural Activities
A desert safari is not all about witnessing desert sands and participating in many dune adventures. It also gets you beneath the skin of the intriguing Bedouin culture and traditions, thanks to its many activities such as Shisha smoking, henna tattooing, falconry, and taking souvenir pictures wearing traditional Emirati costume.
Belly Dance and Tanura Show
Traditional entertainment is a major segment of most evening and overnight desert safaris. Groove to the graceful moves of belly dancer and be in awe at the dizzyingly dervish performance of the brilliant Tanura artist.
BBQ Dining
Depending on your chosen package and service provider, you'll get to relish a scrumptious BBQ dinner served buffet style with a wide array of starters, main course delicacies and desserts. But this is included only in evening and overnight desert safaris.
Top Desert Safari Tips You Should Know
Consider self-drive only if you're confident enough to handle giant and sprawling desert sands. Also, bring your international driving license if you plan to maneuver the vehicle on your own.
Now if you want to skip all hassles of driving your own, book an all-inclusive desert safari but be sure to get it done through an expert desert safari service provider.
Be sure to ask for desert safari inclusions before you confirm your booking.
Refrain from activities like dune bash if you're pregnant or have recently undergone any surgery or suffering from any heart related ailments.
A desert safari is mostly a shared experience where you share transfers and camp with other guests. But you can also make it an exclusive experience with your group by opting for a private desert safari Dubai.
Don't expect to sip alcoholic drinks and watch traditional shows like belly dance if you go on a desert safari during Ramadan or any other Islamic occasions.
Conclusion
We hope that through this post we've passed on to you all info you should know about desert safari Dubai. So now it's you turn to visit here and enjoy a truly awe-inspiring perspective of Dubai's supremely protected and pristine side. The rest is sure that its colossal sands will sink you in its unequaled stillness and consummate beauty.