Thrilling Rides You Must Try In Dubai
Thrilling Rides You Must Try In Dubai: Do you want to save yourself the rinse and repeat the experience of shopping and fine dining in Dubai? Well, gear up for some high adrenalin rush experiences. It is time you discover the thrill in this beautiful city. Want to know more? Here take a look.
Thrilling Rides You Must Try In Dubai
If you have made u your mind to visit Dubai, well here is an list some thrilling activities that you can indulge in and have the time of your life. Here are some thrilling rides that you must try in Dubai.
Sand Boarding
This is one thing you must try if you are in Dubai, it is very similar to skiing and snowboarding, but is done on the sand. This is a fantastic experience and you must give it a go. You have to be at least 13 years of age to participate in this sport.
Ziplining
Want to try something a bit extreme? Try ziplining, this activity involves a speed going up to 70 km every hour. The activity lasts a couple of minutes, but this is one activity you will remember for a very long time. For this, you will have to register with XDubai and if you are lucky you will get selected. Only 30 people are selected.
Seaplane Flight
Give yourself a massive treat and get on a seaplane and fly over Dubai. You will get a bird's eye view of prominent places such as Palm Jumeirah, Burj Khalifa, and Burj Arab. Keep your camera ready to capture some wonderful pictures. This ride lasts from 45 minutes to about an hour. You must book in advance as the slots tend to get filled very fast.
Balloon Ride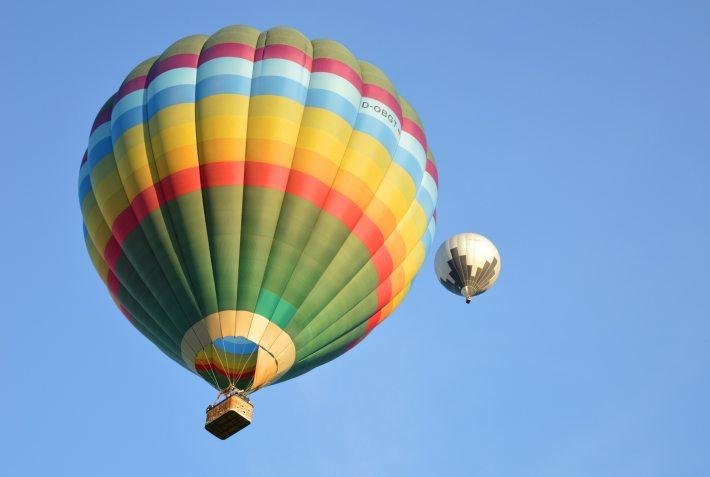 A thrilling experience in Dubai Is never complete without a ride on a hot air balloon. From up there you can get a spectacular view of the Persian Gulf, Burj Khalifa, and Burj Arab. Ideally, you should go for this ride in the early hour of the morning as the air remains fresh and clear.
Shark Diving
Rollercoaster rides are not your thing? Looking for something a little over the edge? Go for a shark diving experience. You can try this at Dubai Mall it is a thrilling experience to be in a cage with sharks and other animals swimming around you. Do not worry about safety as you will have trained professionals accompanying you on this ride
Bungee Jumping
Not trying bungee jumping while looking for a thrilling experience in Dubai is nothing short of a crime. This is the perfect opportunity to conquer your fear of heights. If you do not want to do it alone you can rope in one of your family members and give it a shot.
Skydiving
You may have seen your favorite actors do this in movies. So why not try it out for yourself? Give yourself the ultimate adrenalin rush and go ahead and get this experience. You will be accompanied by a trained professional who has been in this for years together.
So, these were the 7 most thrilling rides that you should experience in Dubai without fail. Do not deprive yourself of these experiences as you will remember them for the rest of your life.