How to Establish Food Truck Business in Dubai – License Cost
Entrepreneurs looking for profits in Dubai can make good money by starting up a food truck business. Learn how to set up your Food Truck Business in Dubai!
To turn your idea into a successful enterprise, you need the proper approvals and the correct location.
It would help if you had a solid business plan, a compliant central kitchen, and an approved blueprint for a food truck license. Being informed about the process will save you time and help you get started trading faster.
Today we will discuss how to set up your business in Dubai.
Getting your Food Truck Business in Dubai
When compared with the costs of opening a full-fledged restaurant, food trucks in UAE require less capital. A food truck's return on investment is also faster than one from a restaurant.
Your food truck can be leased or owned. A place in a brick-and-mortar building is much more expensive than renting one online. It is possible to conduct business more quickly and efficiently. Various markets can be explored in the city, and you are no longer limited to one location.
Obtaining a license in Dubai is the first step in starting a food truck business. You will need approvals from these agencies to obtain a food truck license and permit:
DED (Department of Economic Development)
The Municipality of Dubai
HACCP (Hazard Analysis Critical Control Point)
RTA (Roads and Transport Authority)
1. Prepare an Impressive Business Plan and Submit it to the Dubai Economic Department (DED).
Generally, Dubai's Economic Department is responsible for understanding the business plan and regulating economic performance within the city. This department issues business licenses, inspections, and legal contracts.
To open a food truck in Dubai, the first step is getting DED and the Dubai Municipality approval. Business plans are required to obtain this approval.
You Should Explain the Following in Your Business Plan:
Explanation of the business idea, mission, and vision of the company.
Defining the concept: We Will discuss the experiences of food truck consumers and food truck look and feel.
Finance plan: Funding the business, capital to secure, expenses, break-even, forecasting sales, etc.
It would help if you had a business model for your business plan to decide how you want to run your business. The business model is what you use to run your business.
In addition, it should include the following:
An analysis of the competition
Competitor strategy
Adding value to your business will make it stand out
A financial plan must include:
Financing strategy – whether to raise investment or self-finance
The risks associated with the business
Methods to reduce the risks
Scaling up your business ideas
Government officials need to be convinced that your food truck idea is well thought out, profitable, and sustainable.
2. Obtain HACCP Approval for Your Kitchen and Truck
It will save you time and money to get certified in health and safety
Two important health and safety certifications are required for food truck businesses in Dubai that need to receive approval from the government.
Suppose you plan to pre-prepare some of your offerings. In that case, you need HACCP (Hazard Analysis Critical Control Point) certification for the layout of your central kitchen. Secondly, your food truck needs to be HACCP certified in its design and layout.
You can use HACCP certification to ensure that the products you sell are safe for consumption. Hazards and risks that adversely affect outcomes are identified, controlled, and eliminated through this process.
Government approval is required once the HACCP certificates have been obtained. If you want to start trading, you must have these approvals in place, so getting expert advice from Dubai-based consultants is crucial for following the proper steps.
3. Select the Right Location
Food Truck Business in Dubai: Look for potential locations and learn who owns the land. Dubai is a busy city, and the best places for pop-up markets, fairs, and events go quickly, so you need to be quick to take advantage of the most popular spots.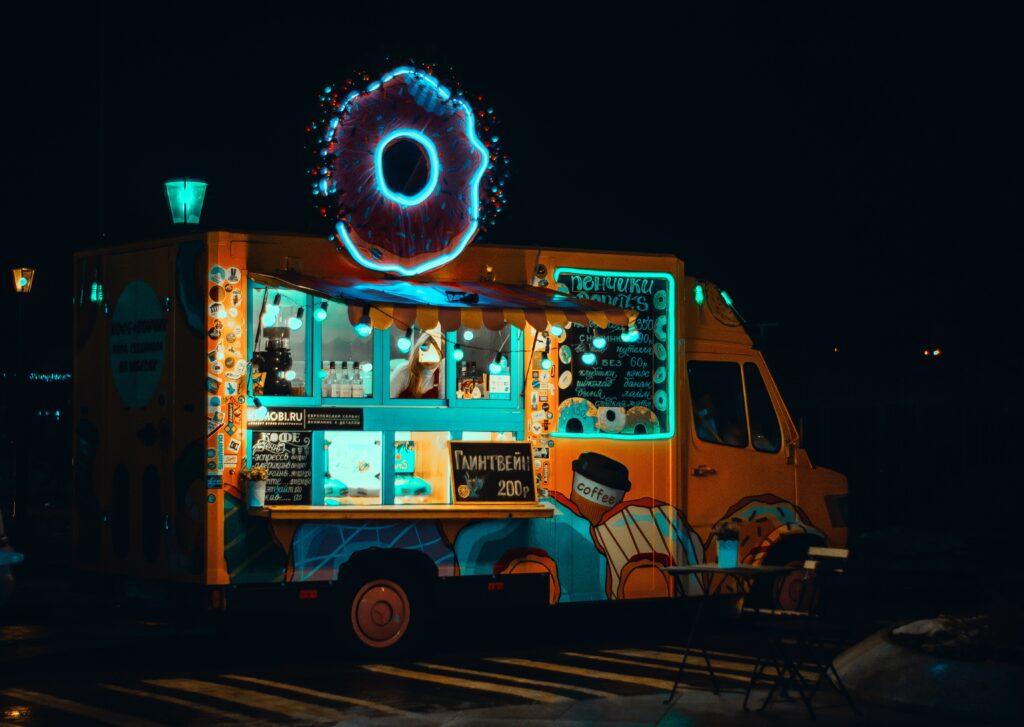 Private landlords own most of the properties so that locations can be limited. Develop contacts with landlords and learn about urban renovations and city developments, allowing food trucks in your city. It may give you an edge over your competitors.
Dubai reports an increase in food trucks in the city. There are several popular spots to eat in Dubai, such as Kite Beach, which is known as a foodie destination and where the Salt Burger Joint is located, and Palm Jumeirah, where 30 pop-up restaurants are set to open.
Dubai's center isn't the only place to look. There are new food truck sites with a theme on key routes on the city's outer edges. For instance, the Last Exit now operates in Al Khawaneej, Al Qudra, and Jebel Ali.
Dubai is booming with food truck parks. Winter festivals like TruckersDXB and Truckers Summer Warehouse take place around the city.
Once you spot a great location, secure it quickly before your competitors move to neighbor sites.
Licensing Fees for Food Truck Business in Dubai
Depending on the requirements, one can obtain a professional or commercial license. A professional license costs approximately 13,000 AED, and a commercial license costs about 19,000 AED.
The following costs are included:
Name of the company
Permit
Signed by the court
Postmark
Fees for the tasheel
RTA
Please note: Business branding on food trucks requires a permit from the RTA. To obtain the license, you will need four-sided vehicle advertising with an anthropomorphic design, a copy of the Dubai trade license, and the vehicle's title. Commercial vehicle advertisements cost AED250 per year.
Buy a Truck, Get your License, and Start Trading.
Food Truck Business in Dubai: If you buy a truck, make sure it is correctly fitted according to the authorities' approval. You need a kitchen truck that can handle the heat and ensures proper ventilation.
Once you obtain a food truck license, you can start cooking and preparing your delicious food as soon as you get a food truck license. Don't forget to taste it to make sure you said it tastes good!
Getting your license for food trucks is not tricky, but it requires an expert eye. It is highly recommended to work with a business formation company as they will do all the document-related stuff and make it easier for you to obtain a food truck license.