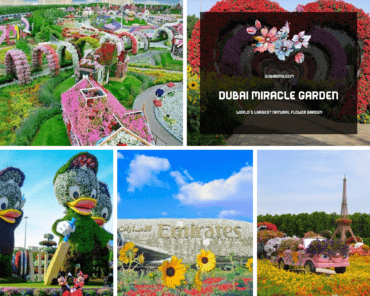 Dubai Miracle Garden – World's Largest Natural Flower Garden: Each year, when the temperatures begin to cool off in winter, it is time to open in Dubai Miracle Garden. It boasts over 150 million flowers blooming. The 72,000-square-meter oasis has become among the most beautiful, sweet-smelling destinations since it was first inaugurated almost nine years ago, appropriately to open on Valentine's Day.
The prestigious Guinness World Records panel awarded Dubai Miracle Garden for having the most significant vertical garden in 2013 and the giant flower sculpture on the planet that resembles one Airbus A380 in 2016. The following year we constructed the highest topiary sculpture anywhere in the world. The 18-meter-high statue was the first Disney-designed character-themed flower display in the Middle East – officially licensed and made of 100,000 flowers and plants and weighing nearly 35 tonnes.
The idea for the first wonder garden project was conceived under an agreement between Dubai landowners and Dubai Properties Group. Dubai Properties Group destination. The project's development was completed in conjunction with Akar Landscaping and Agriculture Company and was led by Jordanian businessman Abdel Naser Rahhal.
The project's price was estimated at AED 40 million ($11 million). Dubai Miracle Garden is the Middle Eastern city's latest mega super project. It was inaugurated on the 14th February 2013 and visited by more than 200,000 people within its first month of operation. More than 45 million flowers bloom with stunning designs, unique forms, and designs—a stunning color combination created by various flowers and colors.
Miracle Garden can be described as unique in the region and the world as an extraordinary display and outdoor recreation destination. Miracle Garden, in its First Phase, provides modern-day facilities and services.
Exciting Attractions and Activities
With a promise of full blooms in festivities and fun for the coming months, Dubai Miracle Garden – the world's largest natural garden has a wide range of thrilling and brand new activities and attractions each season to entertain everyone of any age.
Umbrella Tunnel
There's more than one fun, colorful passageway at Dubai Miracle Garden. The Umbrella Passages are among the most intriguing areas designed with creativity in the garden. We created the ceiling out of upside-down umbrellas then placed them in rings separated by flower bands that have been placed in a way that matches the hues of each umbrella.
The hanging of green plants on the ceiling areas creates the impression of a rainforest. These walkways aren't only intended for walking, but they are also suitable for other activities. There are also chairs with a social distance and tables that give you an additional spot to sit down and enjoy a meal from any of our F&B choices, sip coffee, breathe through the scents of flowers or take an unintentional break from walking.
Lake Park
Flowers and water make an incredible combination, and you will experience it live in Our Lake Park. The scene created by the reflection of flowering models and villas in 3D with blue-sky backdrop results in a stunning explosion of green, purple, and pink, red, and blue shades of color.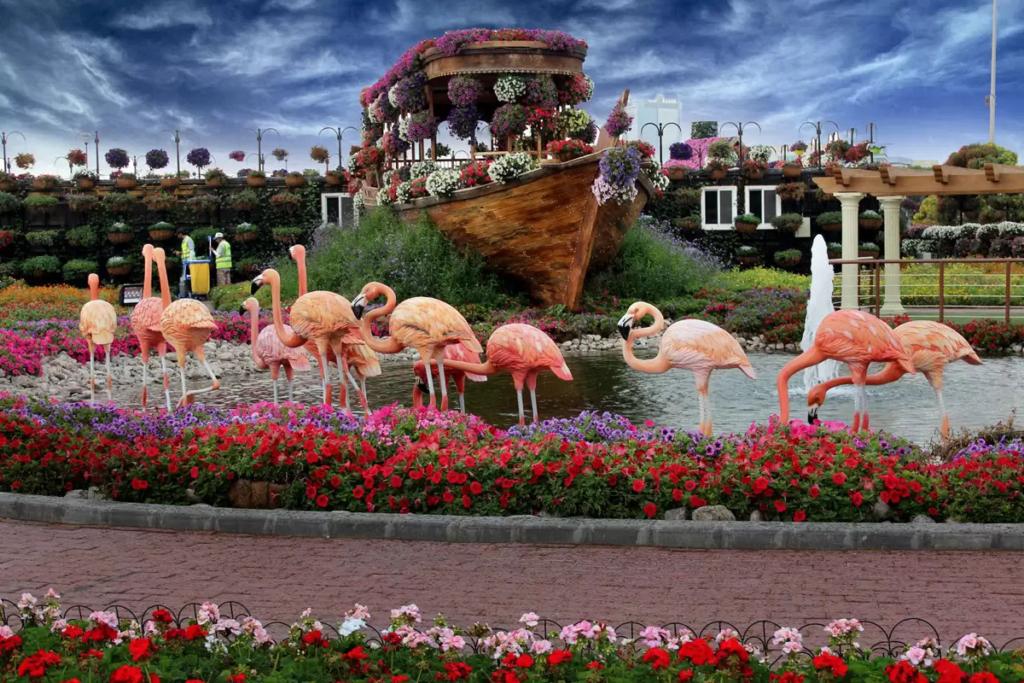 It's the ideal place for you to put your phone in professional or HDR mode to capture saturated and vivid photos with your family, friends, or that particular person. With waterside creatures sitting close to sea-going vessels, all tied by the Dubai Miracle Garden's floral themes and themes, the Lake Park captures every aspect of H2O and offers the area a fresh floral look.
Floating Lady
The latest attraction in Miracle Garden, the Floating Lady, is suspended in the air with arms outstretched without a care in the world as her long, curly hair hangs down towards her feet.
Her attire is the main attraction of the spectacle. The white and red petunias dangle from her horizontal position over an open field of flowers, giving the illusion that she is slowly brought to the skies by a mysterious, ancient power.
On the other side, one can observe the spires of the Floral Castle in the middle distance. May the fortress have been once a fair maiden's residence?
Hill Top
The colorful flowers give the illusion of verticality Dubai Miracle Garden. Visitors can walk through a stunning passageway that leads them to the lower section of the park. From this point, you will have a fantastic view of the hill with the vibrant flowers that rise from the bottom up to the higher elevations. Here, Dubai Miracle Garden looks like an enchanting valley.
Various coffee shops and an ice cream shop join the multi-colored flowers and treetops. It's a perfect spot to take an intimate family photograph or a couple's selfie, accompanied by the warmth of a cup of coffee! Take a look at different angles to see the extent of this unique Dubai floral garden.
Floral Designs
The color, design, and structures of the 3D flower characters are a testament to our creative team's work for guests of the most well-known floral garden. We re-invigorated the idea by seamlessly blending these characters with vivid flowers, giving them a striking appearance and distinctive designs.
From giant floral mushrooms and humanoid ants, with flowers-filled thoraxes, to swans with roses and car-powered flowers, The imagination of our team knows no limits. The attractions have been a popular attraction for visitors to Dubai Miracle Garden for a long time.
Sunflower Field
The species' name suggests that sunflowers are fond of the sun, and they want it so much that they even rotate around to face it while still young.
It's only fitting, therefore, that sunflowers are at their best on bright, sunny days. The yellow flowers reflect and absorb light beautifully, providing a unique, natural background to your photos, no matter if you're shooting them with a professional-grade DSLR or a smartphone with a mid-range price.
The effect gets even more dramatic when you view fields bursting by thousands. Did you realize that sunflower isn't just one bloom? However, it's thousands of tiny ones? This is why the sizeable brown section at their center is fuzzy. It's the sensation of many small flowers on your fingertips!
Emirates A380
With its distinct, larger-than-life double-decker design, The Airbus A380 is one of the most adored superjumbo jets globally, and no other airline has more than Emirates Dubai, the world's largest airline. We chose to honor the most stunning skyline passenger aircraft by keeping it in the most natural way we could: by planting flowers. This is why we teamed up in partnership with Emirates Airline to build the largest flower installation in the world, A life-sized version of the Emirates A380.
In the middle of the world's most extensive garden of flowers, Our A380 is decked with more than 500,000 fresh flowers and live plants. The structure was constructed in 2004, and it's the most prominent structure that has ever been built in the garden and holds the Guinness World Record. So it's no wonder that the A380 is among the most visited attractions in the area.
Smurfs Village
In its magnificent 10th year, the world's most extensive natural flower garden is launching an exciting new feature that children and young at heart will surely love. Dubai Miracle Garden is proud to announce the debut of the brand new Smurfs Village during the winter months, where the world of these beloved blue animals will be presented in delightful landscape designs as part of an arrangement negotiated by IMG. A forest of mushroom-themed houses awaits visitors and residents alike to visit this one of Dubai's top spots.
A retelling of the Belgian comics and a well-loved film and TV series, The Smurfs are tiny blue creatures that live in a community made up of mushrooms that form homes that form their quaint village. The dazzling spectacle on display at Dubai Miracle Garden will feature four different zones, including The Smurf Village, Smurf Activity Area, Smurf Topiaries, and a fourth Guinness World of Recordset to open providing people living in Dubai something to anticipate for the coming season.
Visitors will be transported to the Smurfs' world as they are welcomed into a world of adorable blue creatures. Dubai Miracle Gardens' Smurfs Village will be filled with thrilling surprises, impressive structures, and designs that take design inspiration from the famous characters and their home. The entire landscape will transform into distinct zones and areas to attract visitors and an expanse of fascinating and vibrant natural beautiful blooms and plants. Visitors can enjoy stunning paths that display stunning designs and landscapes that can't be seen elsewhere. Visitors can expect delight with some surprising performers and spectacular shows when the night begins.
Floral Clock
It's fun to watch time, and we are prone to worry about it and feel like there's always enough. We usually glance at our wrists or phones to keep track of it; occasionally, it's good to view the clock from another angle. Dubai Miracle Garden offers one in the form of a gorgeous 15-meter-high floral clock.
It's built of natural flowers and plants that we transform depending on the seasons, particularly pertinent to the changing sands of time, daylight hours, and the weather. The mechanical parts of the floral clock were imported from the US as well as our in-house landscaping team Miracle Garden Landscaping designed the stunning design.
How to get at Dubai Miracle Garden
TRAIN
Use the Dubai Metro and stop at the MOE (Mall of the Emirates metro station) on the red line.
BUS
RTA Bus route 105 from MOE to Dubai Miracle Garden is available (5 AED for each trip).
TAXI
Taxis are also accessible when public transportation isn't suitable for you.
Tickets
Purchase/Book your tickets at https://www.dubaimiraclegarden.com/