Top 5 Water Sports Rentals to Try in Dubai: Dubai, with its year-round sunshine, crystal-clear waters, and the scenic coastline is a water sports enthusiast's dream. Whether you're a first-time traveler or an experienced adventurer, Dubai has something for everyone, whether they prefer the serene calm of paddleboarding or the heart-pounding rush of jet skiing. We'll talk about the top five water sports to try in Dubai in this blog post. Prepare to dive in and discover the top water sports rental Dubai has to offer.
Top 5 Water Sports Rentals to Try in Dubai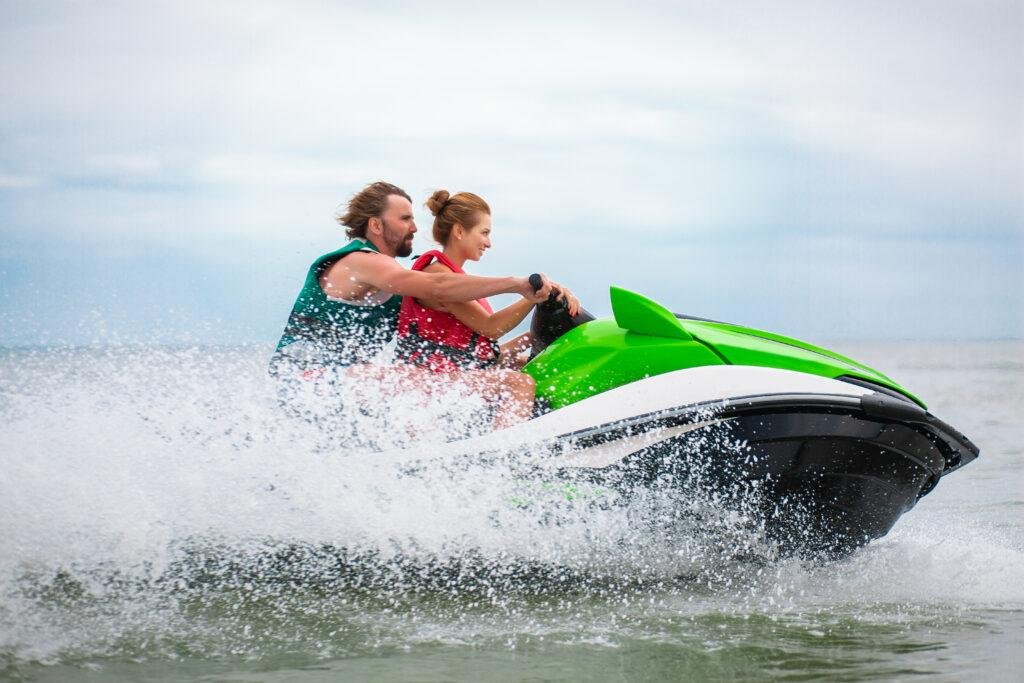 Enjoy Water Sports Like Never Before
Water sports are a thrilling and exciting way to experience the great outdoors and explore the natural world around us. Rent it Online explores the top five popular water sports for you to try out in Dubai. So, keep this list in hand when you rent water sports in Dubai. Top 5 Water Sports Rentals to Try in Dubai
Jet Skiing
One of the most popular water sports in Dubai is jet skiing. Dubai's warm waters and picturesque coastline provide the ideal setting for an adrenaline-fueled jet ski ride. There are many options for jet ski rentals in Dubai, regardless of whether you're a novice or an expert rider. You can rent a jet ski for an hour or more and cruise around the waters at your leisure. The Palm Jumeirah, Dubai Marina, and JBR beach are all popular jet ski destinations in Dubai.
Parasailing
Parasailing is a must-try if you're looking for an exciting water sport that offers an entirely different perspective of Dubai's coastline. Parasailing entails being towed behind a boat while attached to a parachute, allowing you to see the water below from a bird's eye view. You'll be able to marvel at the breathtaking views of Dubai's skyscrapers, shorelines, and shimmering waters as you soar through the air. In Dubai, parasailing is a well-liked activity. Several businesses provide packages that include pick-up and drop-off services, safety equipment, and qualified instructors.
Wakeboarding
Wakeboarding is a water sport in which riders ride on a board while being towed by a speedboat. Wakeboarding lessons and equipment rentals are widely available in Dubai thanks to the sport's popularity. Wakeboarding is a rewarding and challenging sport that can help you gain more balance, coordination, and agility whether you're a beginner or an expert rider. The Dubai Marina, JBR Beach, and Palm Jumeirah are all popular wakeboarding spots in Dubai
Flyboarding
A comparatively new water sport called flyboarding involves standing on a board and being launched into the air by water jets. You might feel as though you're flying over the water while engaging in this thrilling activity. Dubai is a preferred location for this thrilling sport because there are many businesses there that provide flyboarding lessons and rentals. Flyboarding is an unforgettable experience that you won't want to miss, whether you're a first-time flyer or a seasoned adventurer.
Paddleboarding
Paddleboarding is a great choice for people looking for a more calm and relaxing water sport. Standing on a big board and using a paddle to move through the water is known as paddleboarding. It's a simple and enjoyable activity that people of all ages and fitness levels can enjoy. Paddleboarding is among the favorite water activities in Dubai, where the waters are calm and clear and many businesses provide rentals and guidance. Paddleboarding is a must-try water sport in Dubai, regardless of whether your goal is to discover the secret coves and beaches of the city or simply to relax.
Conclusion
Top 5 Water Sports Rentals to Try in Dubai: The beauty and thrill of the great outdoors can be enjoyed in a variety of ways, especially through water sports. And Dubai is the place to go if you're looking for the best location to try out some of the most exhilarating water sports. Dubai is the ideal location to explore the natural world and create priceless memories because of its clear waters, gorgeous coastline, and clear blue skies.
The water sports rental companies in Dubai will satisfy all of your needs, whether you want to try out water sports to test your limits, unwind and relax, or simply take in the beauty of your surroundings. The water sports activities can range from the adrenaline-pumping thrill of jet skiing to the blissfulness of paddleboarding. So, pack your bags, gather your gear, and get ready for a once-in-a-lifetime adventure in one of the most thrilling and dynamic water sports destinations in the world.