Sand Dollar Dubai: Throughout modern history, women have spearheaded some of the most powerful ideas when it comes to business and fashion. These fearless female leaders are more than just fashionistas with a passion for clothes, they have continued to innovate the world of style, including Sand Dollar's founder and Owner, Lucy Gibson.
Lucy Gibson's Early Life
Hailing from the UK, 40-year-old Lucy Gibson has spent most of her life as an ex-pat. She is currently based in Dubai, where she now resides with her husband, two young daughters, and three dogs.
To say Lucy's life has been one of adventure would be an understatement. Having lived a somewhat nomadic life, it all began in Abu Dhabi, from where she then began moving around the Middle East with her parents, who were working in the Construction Industry and Nursing at the time.
Saudi Arabia, Oman and the UAE were just a few countries she was lucky enough to experience early on. And if there were that perfect picture of "expat life", Lucy and her family were certainly relishing it. The beach, BBQs, desert camping, and even wadi bashing were the norm. Obviously, the plethora of tax-free benefits and 365 days of sunshine were just as enticing.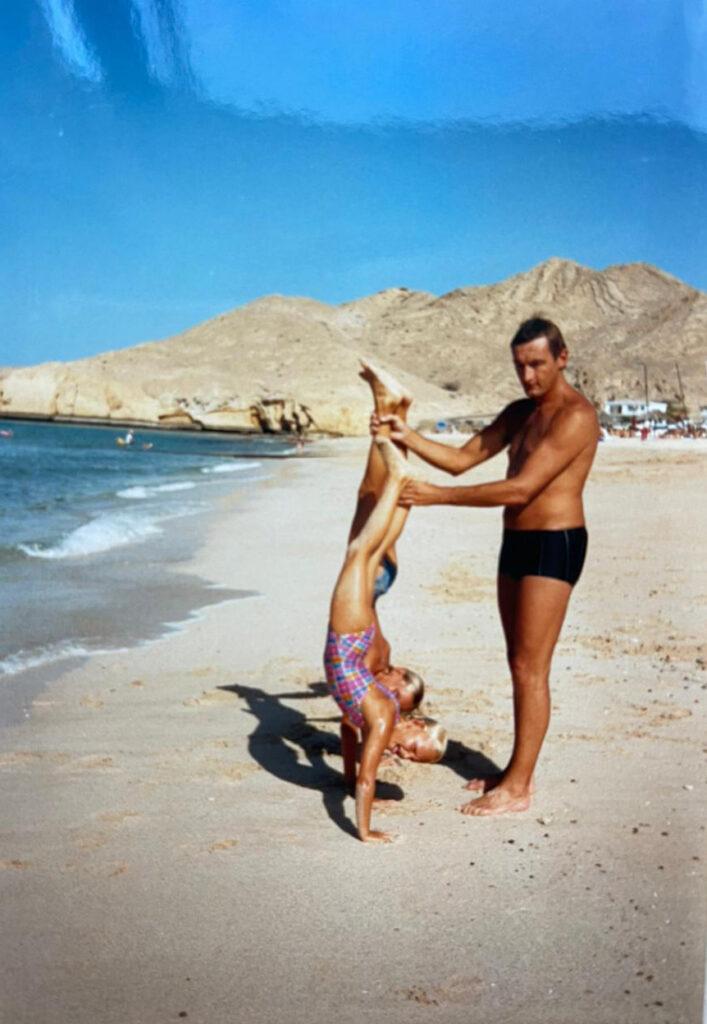 School Days in England
At the age of 11, her family immigrated back to the UK in a bid to start a new chapter. Lucy attended the well-known Farringtons School for Girls and Coopers School, both of which are located in Chislehurst, Kent. With an interest in business from an early stage, she then went on to complete a BA Honours in Marketing and Business at the University of Hertfordshire. Her area of interest, in which she chose to base her thesis on, was an online Florist Company, which ironically became useful when first establishing Sand Dollar Dubai.
Lucy is certainly not work shy. Raised in a hard-working and industrious family, a good work ethic and values were ingrained from an early age. With these deeply instilled, she clearly understood that if you wanted something, you had to work for it.
With a taste for high-end stores and designer brands, she soon realised that if she wanted to enjoy such luxuries, she would have to go out and earn. It is then really no surprise that her first-ever job was working part-time in Topshop for the Arcadia Group. What was her first purchase? A stunning pair of Russell and Bromley boots of course! From there, she moved on to other stores, this time higher-end ones, which included Karen Millen, where she spent the majority of her hard-earned cash on clothing and accessories. Not one to turn down opportunities, she even worked within the Floristry Industry in Covent Garden Market.
But her love of chasing the sun and sand finally saw her moving back to the UAE, where she has continued to reside ever since.
Sand Dollar Dubai Swimwear Boutique Gets Its Start
Life is always better at the beach, and Lucy knows this well and good, which finally led her to combine her passions, talents, education, and knowledge of the high-end retail industry and launched Sand Dollar Dubai, which she established and grew into a thriving luxury swimwear business 10 years ago. The namesake is a tribute to Lucy's childhood, when she and her family would scour the beach for sand dollars. What started as a small pop up in Le Meridien Mina Seyahi Beach Resort and Spa has blossomed into four permanent locations in some of Dubai's most renowned locations.
Lucy's initial venture into the highly competitive world of luxury fashion was in her pre-children days, allowing her to spend a great deal of her time networking, growing her business, and selling some of the luxury swimwear brands she loves, including Melissa Odabash, Agua Bendita, Hunza G, My Beachy Side and ViX.
A lot has happened in the last 10 years, despite her busy home and family life. With the mission of creating a high-end swimwear and beachwear store that is easily accessible to her fellow fashion aficionados and beach lovers, Lucy transformed Sand Dollar Dubai's first brick and mortar store, which has now evolved into four physical stores that stock 80+ brands. But today, a business is not a business if it doesn't have an online presence and Lucy knows this, and with that assiduity that has been instilled from a young age, she developed her online fashion boutique, which quickly expanded into the UK market with, www.sanddollar.co.uk. Her strong reliable team of equally hard-working and long-standing employees also helps her in all aspects of the business from in-store sales to online purchases to social media management.
Always ahead of the game, Lucy wears many hats, and has a clear plan about her ever-growing business' current position and future. She states:
We have purposefully chosen to be located in some of the best Dubai beach hotels, as we believe it's the way of putting ourselves in direct positioning with our target market. Sand Dollar Dubai is a luxury lifestyle brand, which specialises in luxury swimwear and apparel, which we feel fits perfectly with the partners we have selected. We're more than happy with our current locations and you can find us in Jumeirah Al Naseem, Jumeirah Mina A'Salam, Mercato Mall, and Fairmont, The Palm."
Like most people in business, especially the fashion industry, things have not always been smooth sailing. Learning and growing through trial and error, which proved to be costly and time consuming, has been part and parcel of Lucy's journey. One example was in the realm of e-commerce. With zero knowledge of web creation, design and coding, she attempted to build her own site on webs.com, however her entrance level skills were nowhere near adequate, and she was lucky (and excited) to even make one sale a week at the time. With grit and determination, and the financial help of her faithful husband who believed in her vision, she was finally able to successfully launch her business on the e-commerce platform she wanted, Shopify.
Today, Lucy's life is busier than ever as she balances work and family life. Determined to still be an active parent and pass down the values she adopted from her own parents, Lucy's days begin early, starting with a school drop off at Jess Jumeirah in Arabian Ranches. From there she heads to Sand Dollar Dubai's Tecom office in Smart Heights and spends time hopping to and from her various shops. One thing Lucy always makes time for is collecting her children from school, so come 2pm her working day is over and she passes the reins back over to her reliable and loyal team, whom she could not do without.
With an ever-growing social media presence on Instagram and Facebook, fellow thalassophiles (lovers of the sea) and sybarites can easily seek inspiration from the envy-inducing Sand Dollar images, purchase online and even tag themselves wearing their cute swimwear and outfits from stylish one-piece swimsuits to figure-flaunting bikinis to elegant kaftans that take you from the beach to beyond. #beachvibes anyone? Because if we head to the beach or our favourite Dubai resort and do not post about it, did it even happen? Follow @sanddollardubai and @sanddollaruk to stay up to date with all the latest behind the scenes action and find beach holiday in the sun inspiration at the same time.