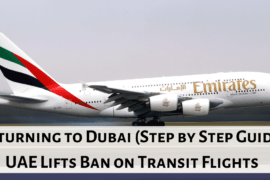 Returning to UAE (Step by Step Guide) – UAE Lifts Ban on Transit Flights: The UAE Government has announced several dates for lifting the International Flight ban from certain countries for weeks. Stranded UAE residents have expressed their concerns and agitations at different instances, but now they can finally heave a sigh of relief.
The UAE Government announced on Tuesday, 3rd August that expatriates with valid resident visas who have received both doses of a Covid-19 vaccine in the UAE can now travel back to the Emirates beginning from Thursday 5th August 2021.
Are you in this category and need to check your visa validity and vaccination certificate? Here are the steps to follow to confirm your eligibility before traveling back to the Emirates.
Returning to UAE (Step by Step Guide)
Step 1
Check your visa to confirm the Emirates of issuance, Dubai, Sharjah, or Abu Dhabi.
​
If your visa was issued in Dubai, then Apply for GDRFA Approval.
GDRFA Approval Click Here
If your visa was issued in either Sharjah or Abu Dhabi – Apply for ICA Approval.
ICA Approval Skip to Step 4
We have already written an article to get the UAE Return Permit Approval
Step 2
Check your Vaccination Certificate.
Expats with valid residency who have received both doses of a Covid-19 vaccine are eligible or travel. But they must have received the second vaccine dose at least 14 days before travel and hold a certificate proving this.
UAE Approved Vaccines Below:
SputnikV
Janssen (Johnson and Johnson)
Moderna
Novavax
OxfordUni AstraZeneca
Pfizer BioNTech
Sinopharm
Step 3
Once you have received approval from GDRFA / ICA (link provided in Step 1), you can safely book your ticket from India or any approved country to UAE.
Step 4
Remember that you must take a PCR Test 72 hours before your flight while booking your ticket. Once you get the result of your PCR Test with a valid QR Code, you can proceed to register your travel on the UAE arrival portal.
Note that this process applies to all valid visa holders, regardless of the Emirates of issuance, and this is done to inform the UAE Immigrations of your arrival. To complete the process, you will be required to provide a valid UAE residential address.
Below is the link to register on the Arrival Portal:
https://smartservices.ica.gov.ae/echannels/web/client/guest/index.html#/registerArrivals
Step 5
As an optional precautionary measure, if your departure airport provides a Rapid PCR Test facility for outbound passengers, avail yourself of the opportunity by taking the Rapid PCR Test before your flight. Returning to UAE.