Welcome to the mesmerizing Sharjah Aquarium, a place that has captured the hearts of both adults and kids since its opening in 2008. Operated by the Sharjah Museums Authority, this educational gem is one of the UAE's most significant centers of marine exploration, spanning a vast 6,500 square meters and housing 21 aquariums teeming with fascinating sea creatures. Let's dive in and discover all the fantastic things this aquatic wonderland offers!
Table of Contents
Explore the Wonderous Sharjah Aquarium: A Fun-Filled Family Adventure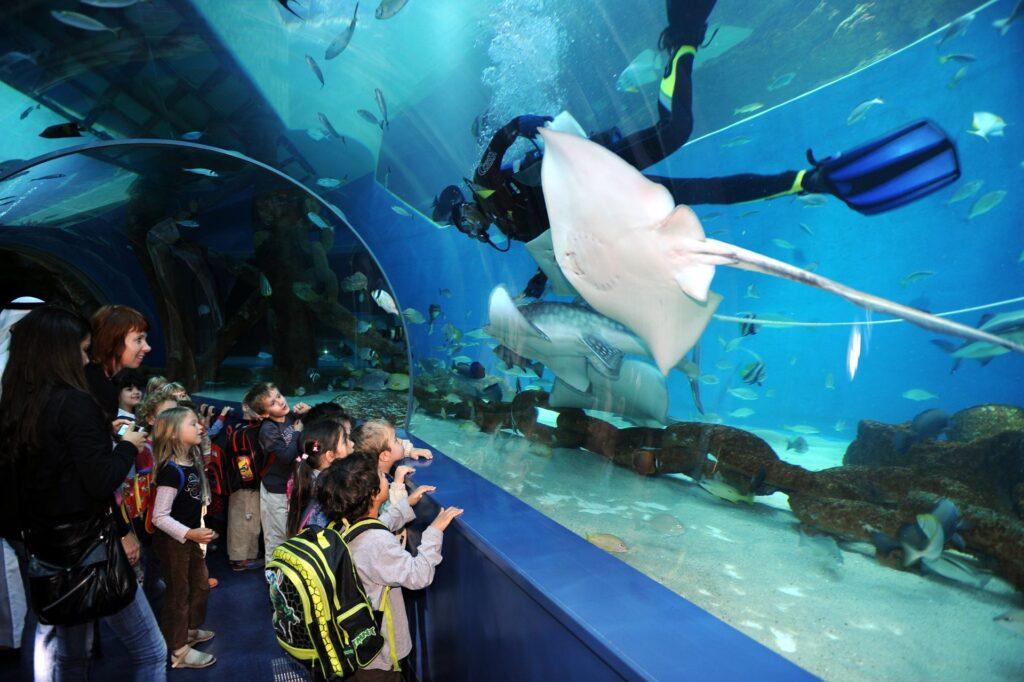 Sharjah Aquarium is not just a place for entertainment; it is a beacon of education, raising awareness about the delicate marine ecosystem and the impact of human activities. Through this eye-opening experience, we're inspired to become more considerate and responsible stewards of our oceans and marine life.
An Underwater Paradise in Al Khan
Located in the scenic Al Khan area, the Sharjah Aquarium is not just any ordinary attraction; it's a gateway to the captivating world of sea life found along the historic coasts of this culturally rich emirate. Beyond being a top destination in Sharjah, the aquarium has an educational mission beyond merely showcasing sea creatures.
Get Acquainted with Marine Marvels
Prepare to be amazed as you encounter over 150 marine species native to the Arabian Gulf waters. From graceful sea rays to docile reef sharks, elusive moray eels, delicate seahorses, and charming clownfish – the diversity of marine life here is truly remarkable. But that's not all; you'll also explore their unique habitats, including coral reefs, mangroves, the Al Khan Lagoon, and rocky shores.
A Conservation Crusade for the Oceans
Sharjah Aquarium goes beyond being a recreational attraction; it serves as a marine nature reserve actively working to protect and preserve sea life. With a decade-long commitment to creating safe habitats for coral reefs and raising awareness about marine pollution and its environmental impacts, the aquarium stands as a beacon of marine conservation.
Facilities for Your Comfort
To ensure you have a comfortable and enjoyable visit, Sharjah Aquarium offers a range of facilities, including free Wi-Fi, wheelchair access, a mothers' room with changing tables, a café for quick snacks and meals, a prayer room, a gift shop, elevators, restrooms, and ample parking space.
Opening Hours and Ticket Information
Plan your visit accordingly as the aquarium welcomes visitors from Saturday to Thursday, 08:00 am to 8:00 pm, and Friday from 04:00 pm to 08:00 pm. Admission prices are AED 15 for children aged 2 to 12 and AED 25 for adults aged 13 and above. Additionally, there are reduced ticket prices for group entries, school trips, and notable exceptions for specific individuals.
Getting to the Aquarium
Reaching the Sharjah Aquarium is a breeze. If you have transportation, driving there is the most convenient option. For those without a car, taxis offer a quicker alternative, especially for visitors from Dubai. However, if you're looking for a unique experience, consider taking the Dubai to Sharjah ferry service, which drops you off at the Aquarium Marine Station, just a short walk away.
Unleash the Explorer in You
For tourists wanting to make the most of their time in Sharjah and explore the city's attractions, the Hop-On Hop-Off Bus Tour is a fantastic option, including a stop at the Sharjah Aquarium. So, get ready to embark on an unforgettable adventure into the mesmerizing depths of the Sharjah Aquarium!
Conclusion
As we conclude our journey through the fascinating Sharjah Aquarium, we can't help but marvel at the wonders we've discovered. From the enchanting marine life to the dedicated efforts towards conservation, this underwater paradise leaves a lasting impression on our hearts.
Whether you're a curious child, an enthusiastic adult, or a keen explorer, the aquarium's inviting atmosphere and diverse offerings promise an unforgettable adventure for everyone. So, gather your family and friends, and make your way to this educational gem, where you can witness the beauty of the deep sea and appreciate the importance of marine conservation.
As you leave the aquarium, armed with knowledge and a newfound appreciation for our underwater world, remember that every little effort counts in protecting our oceans and preserving magnificent marine life. Let's take this experience as a call to action and work together to ensure a thriving and sustainable environment for future generations.
So, what are you waiting for? Come and immerse yourself in the magic of the Sharjah Aquarium, where you can learn, explore, and create lasting memories in the company of captivating sea creatures. This enchanting experience awaits you, ready to unveil the mysteries of the deep blue and inspire a love for the oceans that will last a lifetime.