Best Car Battery Shops in UAE: Top 10 Centers to Visit: The battery in your car is an essential component of its design equipment since it operates both the engine and the electrical components. You must therefore periodically take care of your car battery if you want a hassle-free driving experience.
The short lifespan of a car battery depends on a number of variables, including the way you operate your car, how much you use it, what brand it is, where you live, and the weather. When it comes to replacing your car battery, you must hunt for the top locations in the UAE. The following are the top 10 battery shops in the UAE.
Best Car Battery Shops in UAE
Fasttrack Emarat
Fasttrack has been the best car battery shop in the UAE since its debut in 2004 at the Emarat and Adnoc service stations. It offers a novel and practical concept in vehicle repair and positions itself as the ideal substitute for authorized auto dealers for battery services and maintenance.
Fasttrack Emarat offers a variety of high-quality car care and maintenance items in addition to their extensive and effective servicing options, such as car polish products and car care items that are intended to keep your vehicle in prime condition. 
Services offered:
Replacement, sales, and services for batteries
Replacement and servicing of tyres
Full-service auto repair
Complementary tyre and battery services.
Location: Emarat Gas Station, Al Safa – Al Wasl Rd – Jumeirah – Dubai – United Arab Emirates
Contact: +971 4 342 9191
Battmobile
BattMobile is a highly regarded and well-established store in Dubai for automobile batteries, boasting a diverse range of offerings beyond batteries alone, which serves as an added advantage. As a comprehensive destination for all automotive battery-related needs, they offer unparalleled convenience.
In cases where there are uncertainties surrounding previous repairs, BattMobile can provide expert diagnosis and identification of issues. Additionally, their mobile battery replacement and repair services operate 24/7, proving invaluable for those experiencing unexpected battery failures while on the road.
Services offered:
Car Battery Replacement
Oil Change Service in Dubai
Auto repair
Location: 4th St – near Oasis Mall – Al Quoz – Al Quoz 3 – Dubai – United Arab Emirates
Contact: +971 800 78278
Pitstop Arabia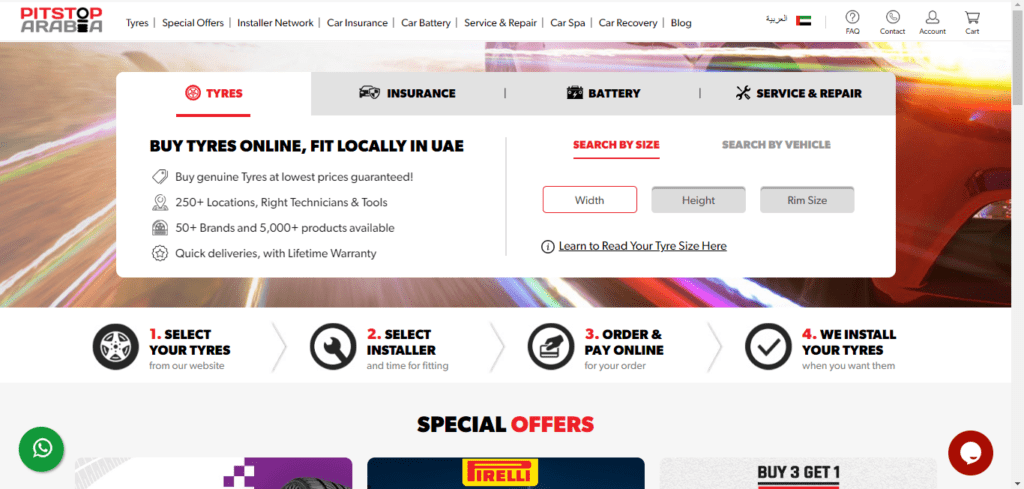 It has swiftly established a reputation for itself despite being a relatively new player in the automotive industry. They provide auto batteries from reputable battery manufacturers. The fact that every one of their items is covered by a genuine brand warranty is what makes them the best.
In addition to this, you may get your battery examined, serviced, or changed wherever you are in the UAE. Their mobile battery service will reach you in a short amount of time, even if you are stranded with a dead battery on a deserted road or highway.
Services offered:
Car tyre sale
Car insurance
Car battery service
Location: Building 4, Ground Floor, Dubai Outsource Zone – Manama St – Dubai – United Arab Emirates
Contact: +971 4 876 0111
Saeedi Pro
The best tyre deals in Dubai are brought to you by Saeedi Pro. They provide a full range of auto care services, including brake pad replacement, gas refill, brake battery replacement, wheel alignment service, and tyre replacement.
The whole selection of Solite's maintenance-free, high-performance, and long-lasting vehicle batteries is available at Saeedi Pro. They offer tyres for passenger cars, SUVs, commercial vehicles, and off-road vehicles, serving a variety of vehicle sizes. You can find one of their tyre stores close to you because they have 9 conveniently positioned auto service stations in the UAE.
Services offered:
Services offered:
Car tyre sale
Car maintenance & services
Car battery service
Location: 6A Street – Al Quoz – Al Quoz Industrial Area 3 – Dubai – United Arab Emirates
Contact: +971 4 347 7550
Dial-A-Battery
The best auto battery replacement service, Dial-A-Battery, brings the best battery options to your door. They spare you the time and energy necessary to travel to a service facility by bringing the replacement service to your location.
Dial-A-Battery is dedicated to offering on-site guaranteed battery solutions because of its qualified specialists who are outfitted with cutting-edge technology.
Services offered:
Flat Tire Replacement
Car Battery Replacement & Repair
Emergency Fuel Delivery
Jump Start
Location: W/h#S2, Street 14B – Al Quoz Industrial Area 4 – Dubai – United Arab Emirates
Contact: +971 800 247365
Orange Auto
At Orange Auto, you may benefit from premium service with branded parts and components without incurring much cost. They sell replacement batteries at competitive costs and only use the best-known brands.
Their services include tyre & wheel care, tyre change service for cars, wheel alignment tyres by brands, oil change, battery change for cars, 3m automotive window, film tinting, 3m car cleaning, 3m paint protection, nano ceramic paint protection, alloygator wheel rim protector, car ac repair, car wash service, steam car wash, brakes & suspension vehicle service by brand, auto repair shop, car body repair, car scratch repair, car dent repair, 3m anti-rust proofing, wheel repair.
Services offered:
Car care & services
Battery & tyre services
Oil change 
Body works
Location: National Taxi Workshop – 364, 318th Road, Opposite – Dubai – United Arab Emirates
Contact: +971 4 338 1551
800 Battery
Since it was founded in 2011, 800 BATTERY has offered excellent on-site and roadside battery support services. Its vast geographic coverage has grown tremendously, and its specialized patrols are now accessible 24 hours a day across Dubai, Abu Dhabi, and Sharjah.
Their drive to offer round-the-clock coverage is evidence of their unshakable commitment to client satisfaction and making sure that their clients are never left stranded due to battery problems. Services offered include roadside battery replacements, battery repairs, and warranty.
Services offered:
Car servicing
Suspension & Brake
Mobile oil change
Roadside assistance
Location: 3 9a St – Al Quoz – Dubai – United Arab Emirates
Contact: +971 800 2288379
Max Garage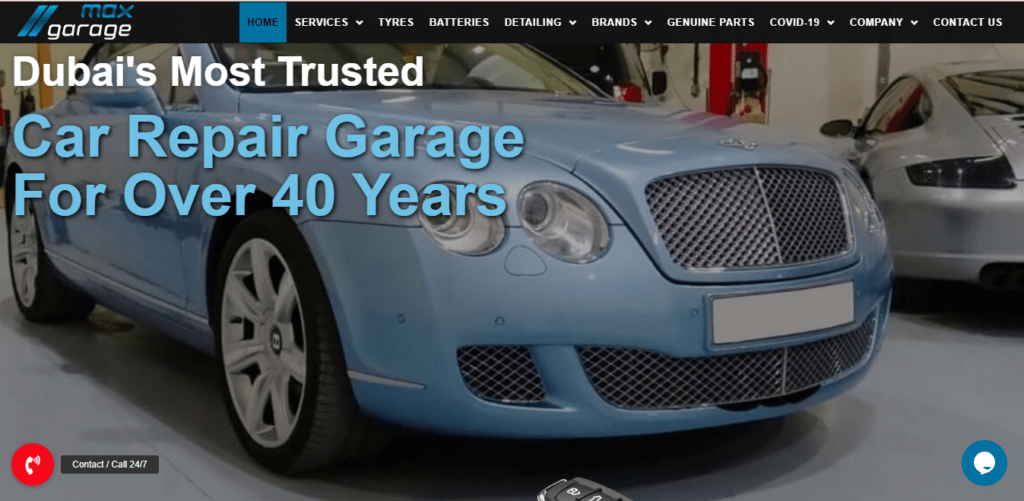 Max Garage is a full-service provider of automobile solutions that was founded in 1980. They have developed a reputation for offering dependable service and wise advice to all of their clients by offering solutions to meet their diverse auto repair and servicing demands over time.
They are also regarded as one of Dubai's best, most dependable, and most reasonably priced vehicle garages. They can acquire the original battery from your authorized dealer at a very cheap price, or they can purchase batteries from reputable brands like VARTA and Bosch.
They can jump-start your car or provide you with a temporary battery to get your car to their shop for additional analysis if your battery is fine or if there is another reason why it is getting depleted.
Services offered:
Mechanical & Electrical
Body & paint repair
Detailed vehicle inspection
Recovery & roadside assistance
Location: Umm Suqeim St – Dubai – United Arab Emirates
Contact: +971 4 340 8200
Battery.ae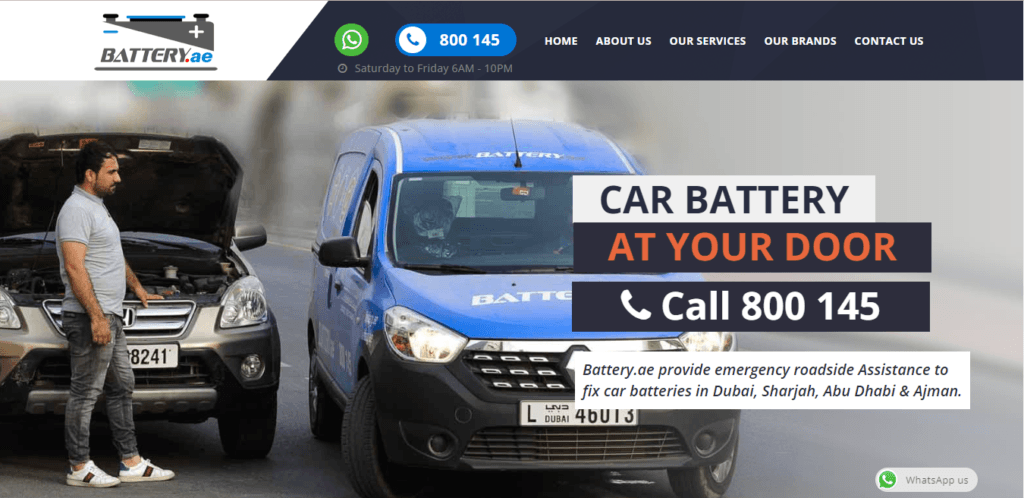 Battery.ae is one of the largest independent sellers of car batteries in the UAE. They keep affordable automotive batteries from top producers including ACDELCO, Platinum, SBK, Energizer, VARTA, and AMRON in stock. Battery.ae does not restrict itself to solely resolving battery-related problems, in contrast to other battery vendors in Dubai.
They offer a wide range of emergency services, including battery installation, tyre change, and fuel delivery, and are supported by a group of over 1000 certified automotive professionals.
Services offered:
Full battery inspection
Emergency battery installation
car battery replacement
Tyre services
Location: 4678+QC2 – Al Quoz Industrial Area 3 – Dubai – United Arab Emirates
Contact: +971 800 145
ZDegree
ZDegree, is one of Dubai's oldest and most trusted auto battery stores. ZDegree is not just a store that provides batteries for cars; it is much more than that. With a team of highly skilled and experienced technicians, ZDegree offers a comprehensive range of services, including AC repair, electrical work, mechanical maintenance, and oil changes, among others.
Whether you need a routine oil change or a complete engine overhaul, ZDegree has got you covered.
Services offered:
Car recovery services
Suspension repair
AC repair
Oil changes
Location: 4th Street – Al Quoz – Al Quoz Industrial Area 4 – Dubai – United Arab Emirates
Contact: +971 800 9334733
Conclusion
Best Car Battery Shops in UAE: In conclusion, car batteries are essential to the operation of a vehicle, and taking good care of them is vital to ensure a hassle-free driving experience. There are many options available for car battery replacement and maintenance in the UAE, and the top 10 shops mentioned in this guide offer a variety of services.
These shops provide battery replacement, sales, and services, along with additional auto care services such as oil changes, car polishing, and full-service auto repair. Mobile battery services are also available for roadside assistance. It is crucial to select reliable car battery shops that offer high-quality products and services to maintain the longevity and performance of your vehicle.