AYA Universe: Dubai's Unique Universe: Are you ready to leave the real world behind and immerse yourself in a realm of pure digital magic? AYA invites you to a one-of-a-kind experience, where cutting-edge technology and inspiring art intertwine to create an extraterrestrial escape like no other.
In this blog post, we'll take you on a journey through AYA's 12 fantastical zones, each offering a unique and immersive experience. From the touch-responsive Aurora Zone to the mesmerizing mirrored world of Outland, prepare to be amazed at every turn.
Table of Contents
So, fasten your seatbelts and get ready to explore AYA Universe, Dubai's latest and most innovative light and sound park. Get ready to be awestruck, delighted, and transported to a universe beyond your wildest imagination. Let's embark on this otherworldly adventure together!
AYA Universe: Dubai's Unique Universe
Introduction
Welcome to AYA Universe, an extraordinary and innovative entertainment park that will take you beyond the stars. With 12 captivating space zones, AYA offers surreal experiences, including drifting among the stars, observing celestial wonders, walking through blooming light gardens, and crossing an infinite bridge over a mystical river. In this blog post, we'll explore the wonders of AYA and how it transports visitors to a fascinating universe of pure digital magic.
AYA: A Gateway to the Metaverse
AYA at WAFI City Mall is unlike any other entertainment park you've encountered. Developed by Hyperspace, a leading entertainment company, AYA serves as a physical gateway to the Metaverse, a digital world of endless possibilities. Step into AYA, and you'll immerse yourself in a universe never before known to humankind.

Unveiling the Chambers of Wonder
AYA exists as a hidden sanctuary far beyond the reaches of our known universe. It's a place that communions with the natural beauty of a mysterious cosmos. Now, a gateway has opened, granting us access to wander and wonder through vibrant worlds within its chambers.
As you journey through AYA, expect the unexpected and embrace the mysteries that unfold before your eyes. From awe-inspiring spectacles to unlocking dazzling powers, every moment at AYA stimulates your senses and captivates you.
An Extraterrestrial Escape
zones across AYA's 40,000-square-foot space. Each zone offers a distinct sensory retreat, combining art and technology perfectly.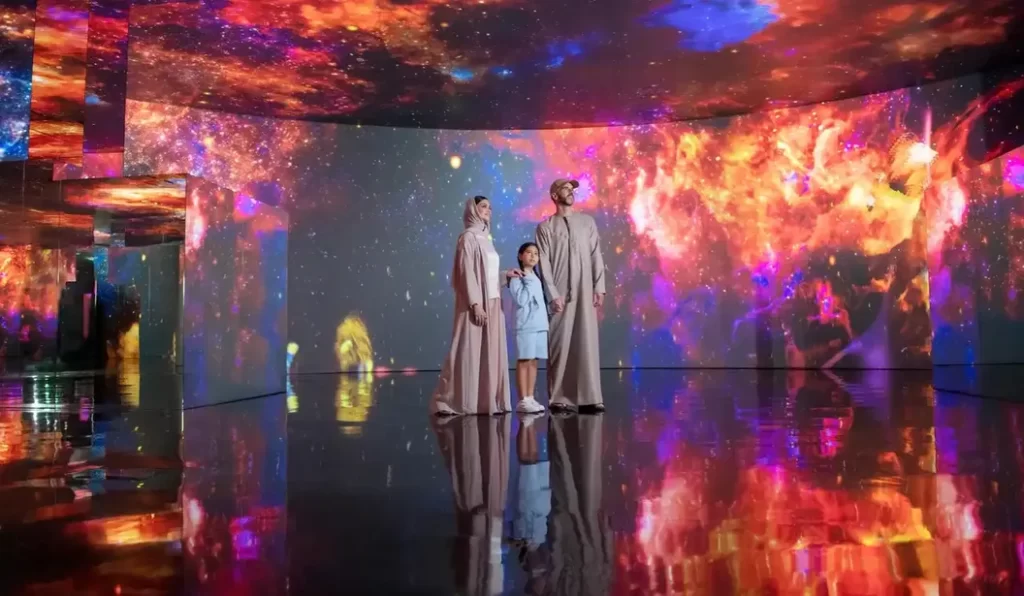 Aurora Zone: Experience artwork in a new light with touch-responsive technology and cosmic elements.
The Source: Immerse yourself in an imaginative world within the touch-reactive dome.
Drift: Feel buoyant in a lush and glittery setting, floating through this unique zone.
Outland: Encounter new avatars and indulge in a mesmerizing robotic light show in the mirrored zone of Harmonia.
The Pool: Witness the magic of celestial creatures and extraordinary flora in this serene zone.
The River: Traverse the enchanting river with a never-ending bridge, connecting you to the infinite.
Falls: Experience the wonder of reverse waterfalls that defy gravity and mesmerize all who behold them.
Celestia: Gaze at galaxies and celestial events projected in uber-futuristic displays.
Flora: Find yourself surrounded by a sentient glowing garden, a true marvel of art and technology.
Tides: Let the waves of this zone take you on a journey through time and space.
Surrender to the Otherworldly
Prepare to be captivated by the most surreal experiences as you leave the real world behind. AYA presents an unparalleled fusion of high-end lights, sounds, graphics, projections, and motion detection sensors, resulting in a truly immersive and awe-inspiring journey.
Watch in amazement as you float through time, witnessing celestial creatures in flight or swimming, and gazing upon reverse waterfalls. The sentient glowing garden will leave you mesmerized, and every corner of AYA will transport you to a universe of dreams.
Highlights of AYA Universe
Delight your senses with the region's first-of-its-kind light and sound park, AYA Universe.
Embark on a cosmic adventure through 12 zones occupying 40,000 square feet in WAFI City Mall, Dubai.
Immerse yourself in surreal experiences powered by cutting-edge lights, sounds, graphics, projections, and motion detection.
Witness extraordinary flora, celestial events, and otherworldly creatures in their most futuristic forms.
Float through time, encounter reverse waterfalls, and be enchanted by the glowing garden.
Ticket Information
Entry Ticket
AED125.00
Child under 3 years
FREE
Entry tickets for children (under 3 years old) can be collected at Customer Service desk upon arrival at the venue.
Entry Tickets to AYA are free of charge for People of Determination. People of Determination may also request a second Entry Ticket free of charge for one caregiver. Please go to the Customer Service desk on arrival. Our Customer Service Team may ask for proof of eligibility, so please have documentation or ID at hand.
Conclusion
Get ready to be whisked away to a universe of wonder and magic at AYA Universe. This groundbreaking park offers an unmatched blend of art and technology, promising an escape from reality like never before. So, gather your family and friends for an unforgettable adventure into the unknown. Step into AYA, and let your imagination soar among the stars!