7 Must Try Adventurous Tours in Dubai: Dubai, known for its glitz and glamour, is also a hub of adventure activities. The city offers a range of exciting tours for adrenaline junkies. From skydiving to deep-sea diving, Dubai has something for everyone. Here are the seven most adventurous tours in Dubai that one must try:
7 Must Try Adventurous Tours in Dubai
1. Skydiving
The ultimate sensation of free falling from a plane at more than 120 mph may be experienced through skydiving, an exhilarating adventure activity, in Dubai. Tandem skydiving is offered by companies like Skydive Dubai, where you jump alongside a skilled instructor who assists you the entire time.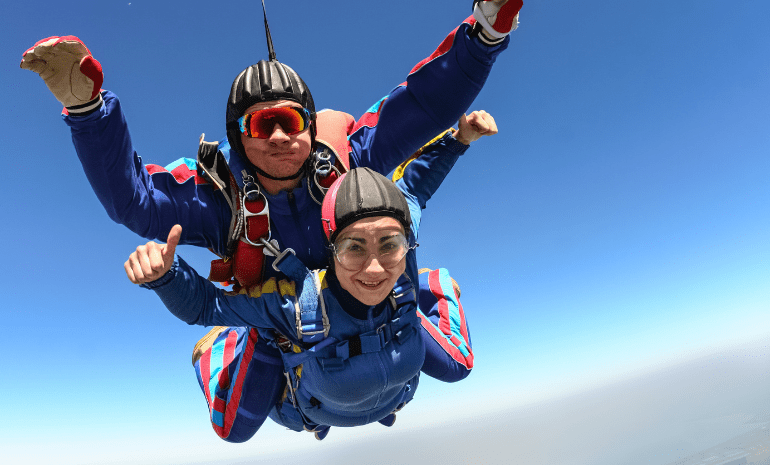 You will be given safety instructions before the jump as well as instructions on how to leap and what to do during the freefall and landing. Then, depending on where you want to go, you'll board a jet that will take you to a height of about 13,000 feet above the Palm Jumeirah or the Dubai desert.
Skydiving is an adventurous and unforgettable adventure sport that provides a unique viewpoint over Dubai's breathtaking scenery. It's a fantastic way to mark an important event or simply push yourself and try something new.
2. Hot Air Balloon Ride
The majestic beauty of Dubai's desert landscape may be appreciated in a singular and unforgettable way by taking a hot air balloon flight. Hot air balloon tours above the Dubai Desert Conservation Reserve, the largest national park in the United Arab Emirates, are provided by companies like Balloon Adventures Dubai.
Because hot air balloons may only be flown during the cooler parts of the day, the experience begins early in the morning. Following training on safety, you will watch as the balloon is filled before boarding the basket with the other passengers and an experienced pilot. You'll be treated to breathtaking vistas of the desert scenery as the balloon soars, including the mountains, undulating dunes, and wildlife like Arabian oryx and gazelles.
3. Sandboarding
Similar to snowboarding, sandboarding includes gliding down sand dunes on a board. It is an exhilarating and well-liked adventure activity in Dubai. It's an exhilarating experience that blends snowboarding's adrenaline rush with Dubai's breathtaking desert scenery.
From novice to expert riders, sandboarding is appropriate for all skill levels. In Dubai, there are numerous operators who provide equipment rental and instruction, including Sandboarding Dubai. You will be given a sandboard, which is a snowboard-like device made specifically for sand, and instructions on how to use it before the activity starts. Additionally, you will receive safety equipment, including a helmet and elbow and knee protectors.
4. Gyrocopter Flight Ride
A gyrocopter flight ride is a unique way to experience Dubai's skyline. The two-seater Gyrocopter ride in Dubai offers a bird's eye view of the city's famous landmarks, including the Burj Khalifa, Palm Jumeirah, and Dubai Marina.
The ride starts from 20 min to max 1 hour, and operators such as Skyhub Gyrocopter offer professional pilots and safety equipment. This is a far more budget-friendly ride as compared to a Helicopter tour. In fact, if you are a thrill lover then Gyrocopter Ride is just for you.
5. Jet Ski Tour
An exciting way to see Dubai's shoreline and take in the breathtaking sea vistas of the city's skyscrapers is on a jet ski trip. Operators like SeaRide Dubai provide guided jet ski rides that whisk you past some of Dubai's most recognizable sites.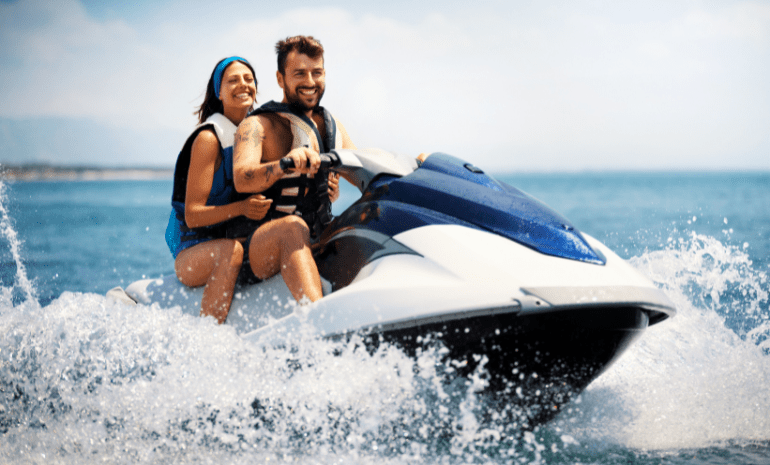 The trips typically begin with an equipment rental and safety training. A jet ski, a little watercraft with a lot of power that can go up to 100 km/h, will be provided to you. Before leaving, the tour leader will make sure you are comfortable and give you instructions on how to use the jet ski.
6. Deep Dive Dubai
It is interesting to know that the Deep Dive Dubai is the world's deepest swimming pool, reaching a depth of about 60 meters. The pool is designed for scuba divers and offers a unique experience for adventure enthusiasts.
It features a sunken city and a variety of underwater caves and tunnels for divers to explore. Equipment rental and professional guides are available on-site.
7. Dubai Autodrome
Dubai Autodrome is a motorsports and entertainment destination that offers a range of activities for speed enthusiasts. The facility includes a karting track, racing circuit, and driving experiences.
The driving experiences include the Audi R8 V10 Plus, Ferrari 458 GT, and McLaren Sprint. Safety equipment and professional instruction are provided for all activities.
Final Word
Each of these tours offers a unique adventure experience in Dubai, from the breathtaking views of a hot air balloon ride to the adrenaline rush of a jet ski tour. Whether you're a seasoned adventure enthusiast or a first-time thrill-seeker, Dubai has something to offer.